Renovating a kitchen is such an exciting time, but it's also a huge investment so it's important to consider your design components right from the beginning. If you're thinking about a new kitchen – have a read of this article to ensure it lasts your family many, many years to come!
A lot of homeowners focus only inside when it comes to kitchen design – while inside is important for the kitchen itself, outside is also a vital consideration as it allows you to maximise use of the main gathering area of your home. If you have a pool, alfresco or expansive deck (or you might have plans to install these in future) – how are you going to make the most of those great areas alongside the kitchen?
The Australian lifestyle is very outdoor orientated. Some of the best memories we have with our family and friends involves the outside in some capacity – and this shouldn't be any different at your home. No matter if you're an avid entertainer, want to make the most of your views or just be more involved in the kid's backyard antics – there are clever ways you can bring the outdoors in with your new kitchen design.
For those of you that feel the kitchen is the heart of your home, maximising this area is absolutely key during your kitchen design and renovation project. You know who you are – those families that huddle around the kitchen during the after-school rush, the Friday nights spent entertaining friends at your place or the hot summer's day during school holidays – think about how additional space and functional design will change the way you enjoy these special times in your home.
Maximise your entertaining space
If this sounds like you, a servery window is a must-have within your new kitchen design. It will feel like you're doubling the size of your entertaining space by bringing the outdoors in and gives you seamless access when you need. If you're the person in your family who does all the preparation and serving from the kitchen, you won't ever feel left out with a servery window – you'll be right there a part of the action! Talk about maximising the space.
There are several types of servery windows in the market – bifold and gas strut are among the most common – but something to consider is Clear Edge Glass' frameless servery window with unique stacking panels that connects inside and outside with a sleek look and feel. Clear Edge Glass' servery windows are custom made so you can choose every detail to match your kitchen design, such as glass type, frame colour, stacking direction, fly screens and more.
If your home has a view, the frameless servery window from Clear Edge Glass doesn't interrupt that view at all with clear, clean lines – whereas with bifold, you will have heavy frames on each panel. A frameless servery window gives you more bench space because it requires a very small stacking area and can be installed by a general trade, meaning no glazier is needed.
You can read more about a frameless servery window here
Upcoming kitchen design trends
According to The Block Shop, broken plan living is becoming more and more popular in kitchen designs. This is where you break up a space into different zones to section off the room – giving you an opportunity to retain a spacious feel, while creating cosy 'social' zones within that area. A servery window helps you to achieve this by becoming a divider that you can easily open or close depending on how you want to use the space in your home.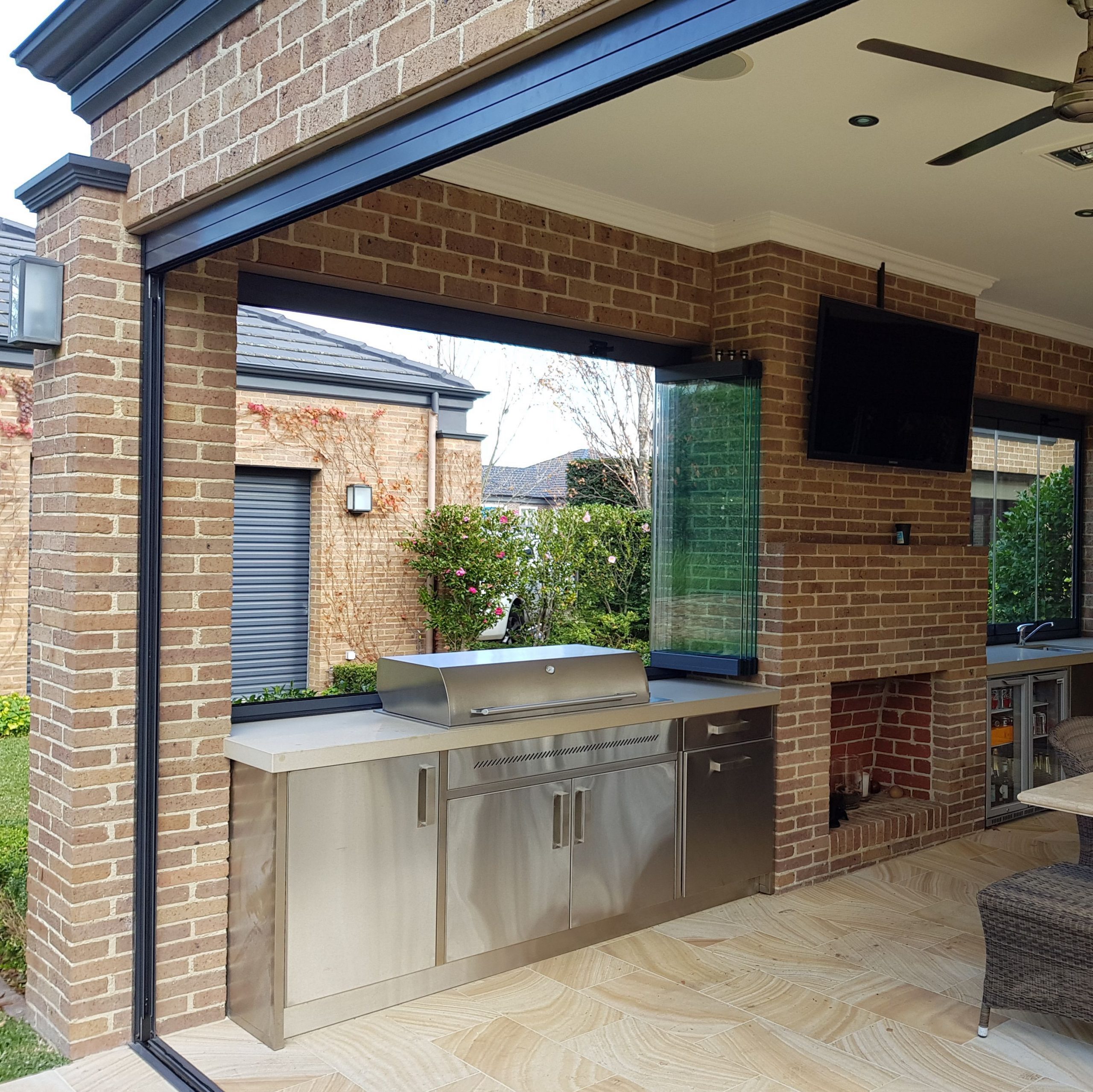 Some other trends that are set to make an appearance in new kitchens in Australia is gold and brass hardware, marble finishes, streamlined designs with integrated dishwashers and fridges, high tech kitchen taps and curved island benches.
We would love to chat to you about including a frameless servery window in your new kitchen design. Contact us and we can discuss options that suit your budget.