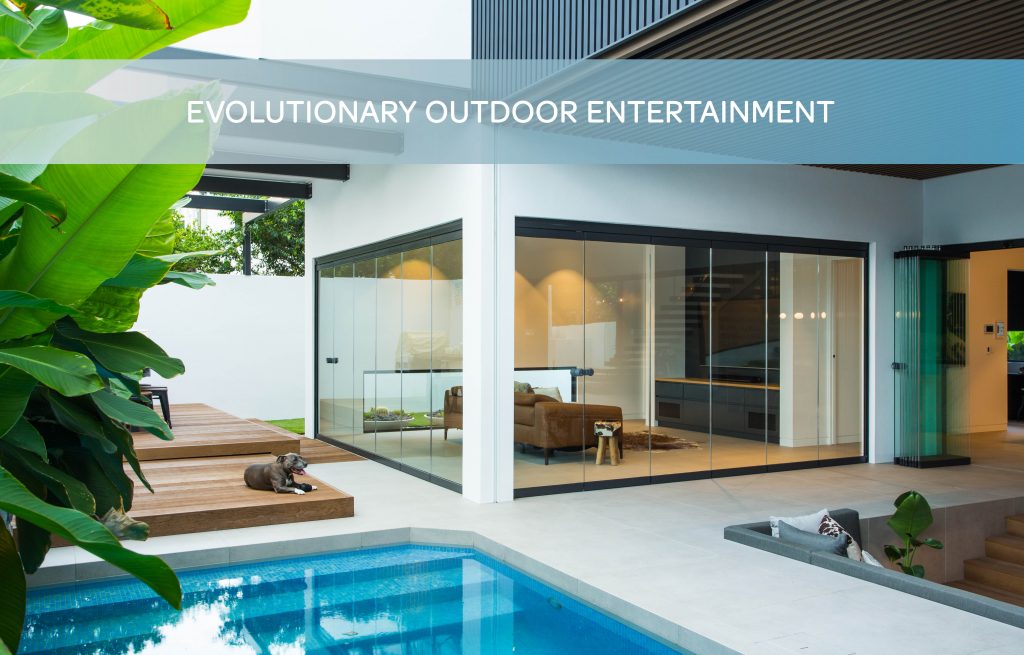 The average Aussie lifestyle demands outdoor innovation. Our house designs are optimised for maximising on the plentiful sunshine we're afforded here, resulting in entire areas devoted to balmy outdoor banter, wining and dining and poolside fun. With so many months of marvellous warmth, why shouldn't a home reflect our well-rounded appreciation of outdoor entertainment? 
We don't doubt that your home is designed with barbecues and pool parties in mind, but in today's article, we'd like to introduce the next step in outdoor entertainment design that'll elevate your experience infinitely. 
Effortless entrance 
There's effort involved in designing your ideal outdoor oasis, but the same shouldn't be said for accessing it. If unpinning and hauling a hefty door is the only means by which you can access your pool or barbecue, you're going to feel like you have to earn every outdoor visit. You'll be less inclined to waltz outside with a book and a wine to enjoy a moment by the pool if it means a clatter of french doors or a yanking of old-fashioned sliding doors. And if, in fact, the only way to access your outdoor area is through a front or back entranceway, it's even less likely to see any use! 
You want an effortless portal through which to pass into your outdoor area that almost tricks you into thinking you never left the home. You want to waltz seamlessly between indoor and outdoor spaces, able to continue a conversation with someone in the pool as you pop back into the kitchen for another slice of pineapple. 
You want the Clear Edge Glass retractable and frameless sliding door system. 
Effortless connection 
Forget indoor/outdoor flow. With Clear Edge Glass doors, we outshine the concept with a sliding glass door design that unites any space on your property – open, or closed. 
A Clear Edge Glass sliding door floor plan challenges the traditional concepts of 'doorways' and 'rooms' and replaces them with a sweeping landscape of unified space. There's no 'deck' and 'lounge'. Rather, there is a wide open playground in which you, your family and your guests will 'float' through as you like. The kids might be splashing in the pool, the dog might be lounging on the deck, someone might be sprawled upon the couch reading a good book and you might be pouring yourself a cuppa in the kitchen, but with open or closed Clear Edge Glass frameless glass doors, you'll look around and feel connected to everyone all at once.
Ready to revolutionise your outdoor entertainment landscape? Complete the design with walls of Clear Edge Glass.
Comments are closed